"Medgar Evers helped to build a lot of the small businesses up in this neighborhood that are no longer here… [COVID brought on] the rise of an exodus, [particularly of Black households] from New York State [because of the lack of affordable housing]. People used to always say they're going down 95 [to reach NYC] but [after 2020] people were going as far as Pennsylvania, New Jersey, as deep as Florida, and Georgia to find places where they could afford to rent or live." 
Those were some of the opening remarks of Assembly Member Brian Cunningham on the state of Black homeownership at the Black Homeownership Project's event to unveil its Black Housing Policy Agenda on Tuesday, September 26th, 2023 at the Edison O. Jackson Auditorium at Medgar Evers College.
For two hours, the event hall was filled by Black elected officials and their staffers, housing justice activists, and members of the Medgar Evers College Community to learn more about the Black Homeownership Project's Black Housing Policy Agenda, provide feedback, and discuss shared legislative and policy priorities for Black New Yorkers and homeowners. 
The event kicked off with opening remarks from Medgar Evers College professor and Director of the DuBois Bunche Center for Public Policy Dr. John Flateau, followed by CNYCN's Executive Director Christie Peale, and lastly by the Provost of Medgar Evers, Antoinette Coleman. 
The Black Homeownership Project's Senior Program Manager, Sabrina Bazile, then presented on the current state of Black homeownership in NY, the root causes of the worst decline in Black homeownership New York has seen since 2002, and the core tenets of The Black Homeownership Project's housing policy agenda. Namely, as stated by  Bazile, the Project seeks to remedy a history of "intentionally racist housing policies and discriminatory housing practices that seek to undermine and rob Black households of their generational wealth." The Black Homeownership Project does this work by advocating for a long-term commitment from the State and City to the support and resources necessary to protecting, maintaining, and growing Black homeownership, and ensuring Black New Yorkers have the ability to stay in their homes and communities.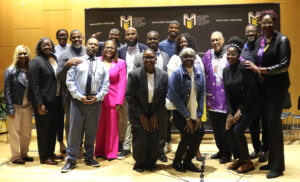 Following Bazile's presentation, elected officials in attendance participated in a roundtable discussion about Black homeownership in their districts and their legislative and policy priorities to address the housing needs of Black New Yorkers. Those present included Public Advocate Jumaane Williams, Senator Kevin Parker, Assemblymember Khaleel Anderson, Assemblymember Stefani Zinerman, Assemblymember Phara Souffrant Forrest, and Assemblymember Brian Cunningham. Deputy Brooklyn Borough President Kim Council also joined those elected on stage, and the offices of City Councilmember Kristin Richardson Jordan, City Councilmember Nantasha Williams, City Councilmember Selvena Brooks-Powers, City Councilmember Sandy Nurse, and the Office of the Attorney General Letitia James participated. 
During the roundtable discussion, the elected official guests  shared their memories of Black homeownership growing up in New York and the ways it has changed significantly in the last few decades. They were raw and honest in their analysis of the challenges that face Black homeowners and residents in their respective districts, and the event ended with a list of shared legislative and policy housing priorities for Black New Yorkers. Unanimously it was agreed that a broad coalition of elected officials, advocates, and community-based organizations is needed to advocate for the housing needs of Black New Yorkers and to push the City and State for their full public support in addressing these issues. 
This event will be the launch of a greater coalition of both elected officials, activists, community-based organizations, and community organizers seeking to expand and protect Black homeownership, Black wealth, and Black communities in New York City and State.
Post written by Sophie Harrington