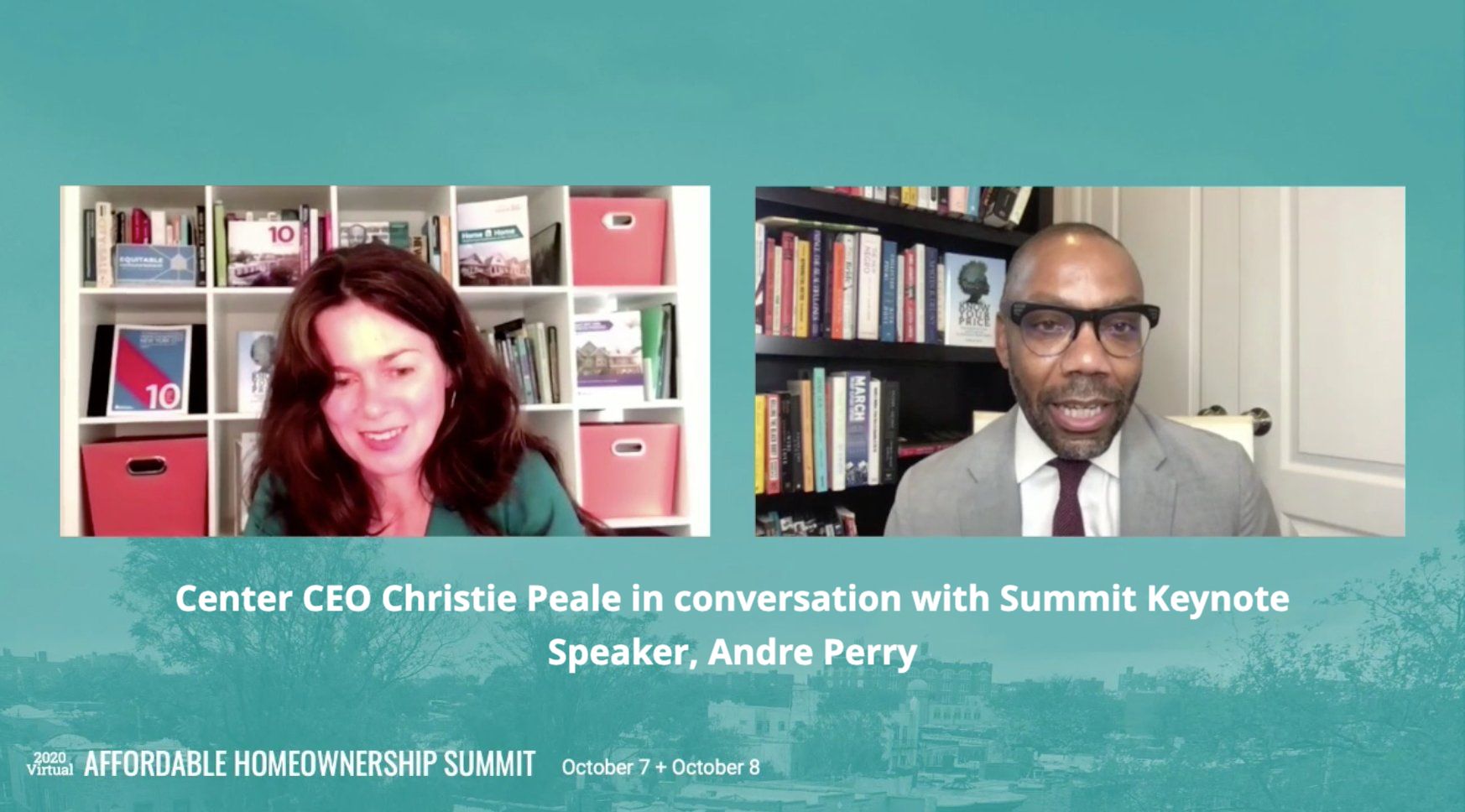 At the Center for NYC Neighborhoods' 6th annual Affordable Homeownership Summit, policymakers, counselors, and housing experts gathered to discuss the racial wealth gap, the impact of COVID-19 on housing, and how to increase access to affordable homes.
Our first-ever virtual Summit came amid a year of crises: a global pandemic that has taken more than one million lives and hit communities of color the hardest; a near-unprecedented hurricane and wildfire season; and a new wave of protests demanding justice for the murders of George Floyd, Ahmaud Arbery, Breonna Taylor, and countless other Black and Brown Americans.
Meanwhile, a new housing crisis may be just around the corner as homeowners and renters alike face a financial cliff as moratoriums on foreclosures and evictions expire.
In spite of the daunting challenges, attendees at the Summit spent much of their time speaking about solutions and sharing best practices. As our CEO/Executive Director Christie Peale put it in her opening remarks, "We are not helpless in the face of these challenges. Our collective strength and vision for what can be is the counterweight to whatever life throws at us."
Here are three key takeaways from the summit.
Black homeownership is in crisis, but there are solutions
Black homeownership was a major theme of the Summit. Panelists expressed worries about Black homeowners in New York and across the country, many of whom have not yet recovered from the Great Recession of 2008.
Keynote speaker Andre Perry, a Fellow in the Metropolitan Policy Program at Brookings and author of Know Your Price: Valuing Black Lives and Property in America's Black Cities, stressed the effects of devaluing Black-owned homes.
"They are underpriced by 23%, totaling $156 billion in lost equity," he said. To bring that figure into focus, Andre noted that $156 billion could pay for 97% of the financial devastation caused by Hurricane Katrina.
Colvin Grannum, President and Chief Executive Officer of Bedford Stuyvesant Restoration Corporation, called for increased enforcement against deed theft and predatory lending that often targets predominantly Black neighborhoods—and changes to the policies that allow the theft to occur. "People should not think they can get away with depriving or stealing the equity of African American homeowners."
Breakout rooms explored five different ways to uplift Black homeownership: a tenant opportunity to purchase program; small landlord services; a down payment assistance navigator; a matched savings program; and enhanced funding and services for estate planning.
More resources are needed to assist distressed homeowners
Panelists expressed concerns about homeowners in the aftermath of forbearance and lack of aid from the federal government.
"We need resources to bring to our clients and for our organization and our community to be sustainable," said Yoselin Genao-Estrella, executive director of Neighborhood Housing Services of Queens.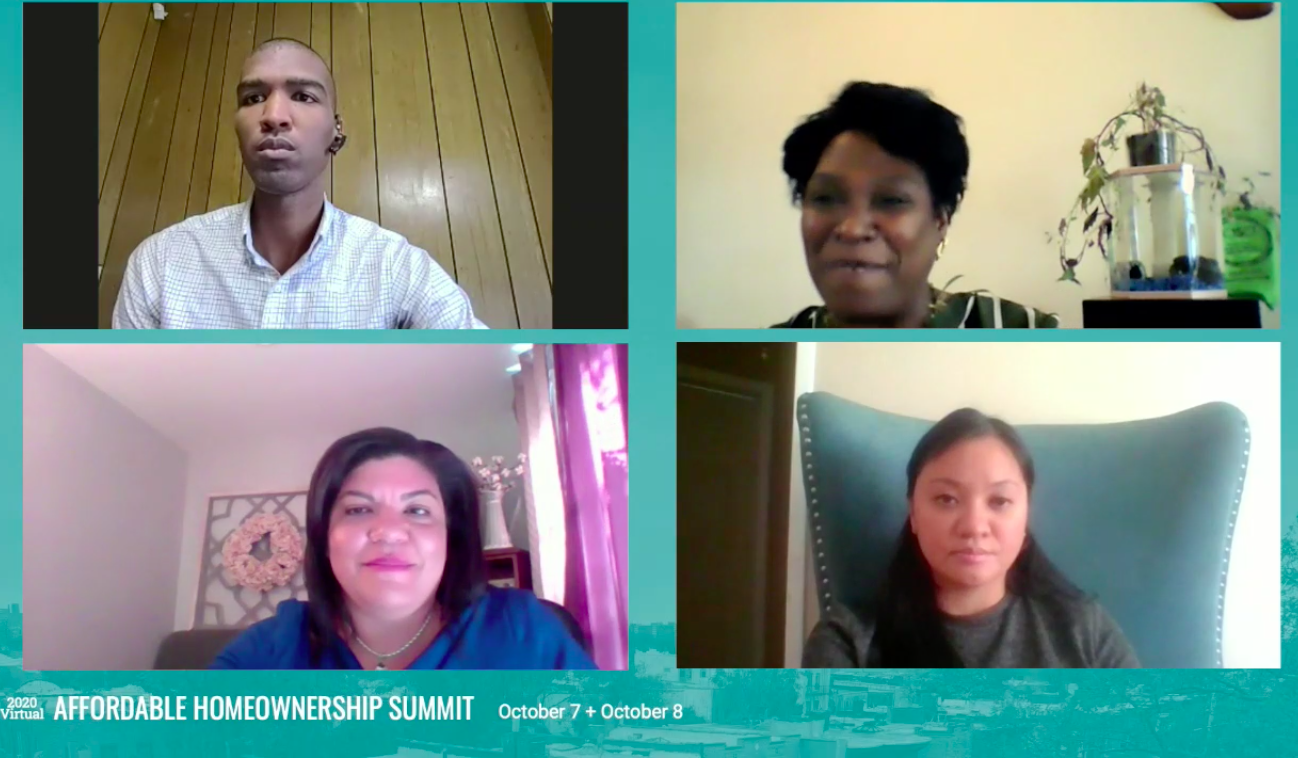 With more homeowners coming into the office for financial counseling because of lost income and unexpected medical expenses, a big picture solution is more important than ever— and the threat of a new recession is very real. "We need a comprehensive, long term solution. Without that, we will have a new wave. We've already been through a foreclosure crisis, and we don't need a second one," said Yoselin.
Would-be homebuyers are being boxed out of the market
The racial wealth gap, lack of knowledge about options to make home buying more affordable, and finding the few truly affordable homes on the market aren't the only roadblocks. Regular buyers fare worse when they're forced to compete with cash buyers in NYC's tight market.
"The significant increase in investor dollars flooding the market makes it harder for families to buy a home," said Yangchen Chadotsang, Homeownership Program Manager of Chhaya CDC, during the final plenary, "The Landscape for New Homebuyers During the Pandemic."
Dina Levy, Senior Vice President of Single Family and Community Development at New York Homes and Community Renewal (NYSHCR), followed with details on SONYMA's new pilot program, Give Us Credit. The pilot aims to increase access to homeownership for households of color by focusing on a history of on-time rental payments instead of the racist credit scoring system; lowering the down payment requirement to 5%; and non-bank forms of savings used by immigrant communities.
Changing the traditional qualifications was necessary, Dina explained. "Requiring a measure of creditworthiness can lock us into a vicious cycle of supporting systemic racism based on lenders historically discriminating against lending to communities of color and targeting them with predatory loans."
—
Missed the Summit? Check out the website and type in your email address for full access to all the conversations! We hope that you find the conversations meaningful, engaging, and relevant to the work we do together to move towards an equitable recovery.
Thank you to our keynote speaker, Andre Perry, and to our moderators, panelists, and breakout leaders for sharing their experiences and expertise! Thank you to our sponsors for your support during this critical time.
Please join us on Friday, November 13th for a Stakeholder Roundtable to discuss Black Homeownership in NYC and our proposed interventions. Email bhp-engage@cnycn.org for more information and to RSVP.