Tuesday, October 18, and Wednesday October 19
12-5pm
For our ninth annual Affordable Homeownership Summit, hundreds of leaders, policymakers, lenders, and advocates convened online to envision and protect thriving neighborhoods for low- and moderate-income homeowners, exploring innovative solutions and best practices from work on the ground to policy made at the highest level. The 2022 Summit focused on Visions for a Thriving Neighborhood, and the elements and policies that need to be in place to create and sustain neighborhoods that remain affordable.
Introducing Keynote Speaker Professor Vanessa Perry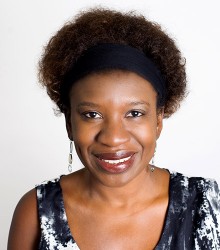 Vanessa Gail Perry is a professor and vice dean for strategic initiatives at the George Washington University School of Business. She is also a non-resident fellow at the Urban Institute's Housing Finance Policy Center. Her research is focused on consumers in housing and financial markets, marketplace discrimination, and public policy interventions, and has been published extensively in academic and practitioner-oriented outlets. Her recent work includes the award-winning article and documentary film "Dog Parks and Coffee Shops: Faux-Diversity and Consumption in Gentrifying Neighborhoods," coauthored with Professor Sonya Grier of the American University, and forthcoming research on the effects of digitalization on homeownership opportunities.
Professor Perry previously served as a senior advisor to the Secretary of the US Department of Housing and Urban Development and as an expert at the US Consumer Financial Protection Bureau. She also served for several years as a senior economist at Freddie Mac and has been a consultant to numerous public and private sector clients, including the Federal Housing Administration, the Small Business Administration, Bank of America, the National Association of Realtors, and FICO. Perry has a BA from the American University, an MBA from Washington University in St. Louis, and a PhD from the University of North Carolina at Chapel Hill.
Schedule
Tuesday, October 18, 2022
12pm – 12:25pm: Keynote Conversation with Vanessa Perry
Vanessa Gail Perry, a professor and vice dean for strategic initiatives at the George Washington University School of Business, opened the 9th annual Affordable Homeownership Summit in conversation with the Center's CEO and Executive Director, Christie Peale. Professor Perry's work on consumers in housing and financial markets, marketplace discrimination, and public policy interventions framed our two-day event.
Keynote Speaker: Professor Vanessa Perry, Vice Dean for Strategic Initiatives, George Washington University School of Business
In discussion with: Christie Peale, CEO and Executive Director, The Center for New York City Neighborhoods
12:30pm – 1:20pm: What Helped My Neighborhood Thrive
Elected officials at every level in New York City play a huge role in shaping our neighborhoods and communities. This panel brought together current and former elected officials to discuss what policies, qualities, and investments over time have set their neighborhoods up for success, and what more can be done to build foundations for people to thrive.
Moderator Kevin Wolfe, Senior Government Affairs Manager, The Center for New York City Neighborhoods
Panelists: To be announced
1:30pm – 2:20pm: Borough Spotlight: Queens
As the second most populous borough in NYC, Queens is home to nearly 2 million people, many of them homeowners. Queens residents face a "new normal" of rising risks such as home displacement, flooding damage, and deed theft that make a thriving future in Queens more difficult to imagine for families and communities. What are some examples we can learn from to inspire new tools, strategies, and coalitions and address these challenges head on? How have we improved resiliency and neighborhood quality-of-life in the decade post-Sandy? And how are we communicating risks and opportunities to homeowners in Queens? In this panel, we dove into the range of issues Queens residents face and discussed lessons that we can build on to support thriving neighborhoods.
Moderator: Jennifer Leisure, Deputy Director, Energy Sustainability Programs, The Center for New York City Neighborhoods
Panelists:

Robert Freudenberg, Vice President for Energy and Environment, RPA
Dana Kochnower, Vice President for Community Engagement and Risk Communications, Ogilvy,
Tyler Taba, Senior Manager for Climate Policy, Waterfront Alliance
Lori Miller, Executive Director, Neighborhood Housing Services of Jamaica
2:30pm – 3:20pm: Expanding Credit
Practitioners and theorists alike acknowledge that credit has historically been one of the largest barriers for POC homeownership in New York City, New York State, and beyond. Communities across the country have worked tirelessly to tackle this issue. In this panel, we examined how expanding equitable credit, access to credit, and fair appraisals can provide more avenues to POC homeownership, and how communities can grow when they have those opportunities.
Moderator: Brian Loeb, Community Investment Policy & Research Advisor, Federal Home Loan Bank of New York
Panelists:

Charu Singh, Founder, Just Value
Caren Johnson, Deputy Director of Digital Products, The Center for New York City Neighborhoods
Darrelle Forde, Vice President of Single Family Programs, State of New York Mortgage Agency (SONYMA)
Derrick Griggs, Chief Executive Officer, Neighborhood Housing Services of NYC
Wednesday, October 19, 2022
1pm – 1:35pm: Day 2 Welcome with Center CEO, Christie Peale & Brainstorm Session
1:40pm – 2:30pm: Borough Spotlight: Brooklyn
Brooklyn is known as a hub of innovation and diversity – as well as the epicenter of a range of housing issues and financial inequality. From the COVID-19 pandemic to housing scams such as deed theft, to cease-and-desist zones and gentrification, Brooklyn faces a complex range of challenges. In this panel, housing counselors and experts who work in the borough discussed the community equity, justice, and financial independence issues that Brooklyn residents face, and strategized our next steps toward a more equitable future.
Moderator: Rebekah Morris, Senior Program Manager, Pratt Center for Community Development
Panelists:

Richard Trouth, Executive Director, Brooklyn Neighborhood Services
Jacob Faber, Associate Professor of Sociology and Public Service, New York University – Robert F. Wagner School of Public Service
Allyson Martinez, Co-Founder, Brooklyn Level Up
Blondel Pinnock, President and CEO, Restoration Plaza
2:35pm – 2:55pm: Info Session: Strength in Partnership
Join the Center and on-the-ground practitioners to discuss how partnership is essential to advancing affordable homeownership, including a presentation on the Homeowner Protection Program and how it serves to strengthen homeowners across the state.
3pm – 3:45pm: Fireside Chat: The Role of Homeownership for a Thriving Neighborhood
Please join the Commissioner of New York City's Department of Housing Preservation & Development, Adolfo Carrión Jr., in a fireside chat with Colvin Grannum, who led Bedford Stuyvesant Restoration Corporation for over twenty years. In this wide-ranging discussion, the Commissioner shared his vision for homeownership in New York City, discussed innovative solutions and best practices that build on the publication of the Mayor's Housing Blueprint earlier in 2022.
Moderator: Pamela Sah, Chief Program Officer, the Center for New York City Neighborhoods
Panelists:

Colvin Grannum, Senior Advisor, Bedford Stuyvesant Restoration Corp
Adolfo Carrión Jr, Commissioner of New York City's Department of Housing Preservation & Development
3:50pm – 4pm: Closing Remarks