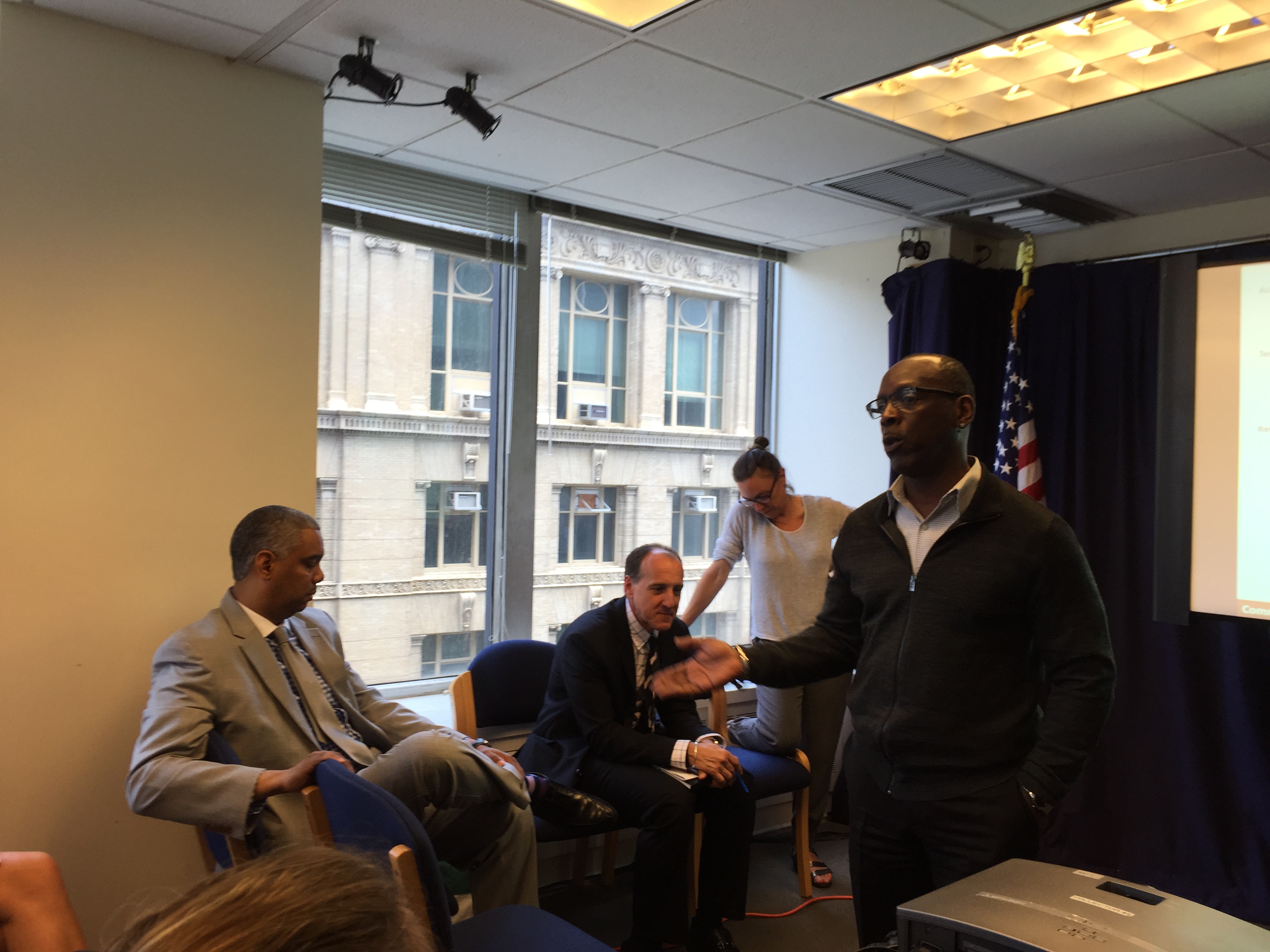 Council Member Daneek Miller expressing support for the new initiative, which he said could aid many distressed homeowners in his district and help to restore the staggering amount of wealth lost in middle-class Queens communities following the foreclosure crisis.
In collaboration with our partners Neighborhood Restore and Mutual Housing Association of New York (MHANY), the Center for NYC Neighborhoods briefed City Council members and staffers earlier this week on a new initiative that has the power to save hundreds of homeowners from falling into foreclosure: the Community Restoration Fund.
The Community Restoration Fund (also known as the "Foreclosure Buy-Back Initiative") builds on the success of the Center's Mortgage Foreclosure Prevention Program, which funds foreclosure prevention housing counseling and legal services for lower- and middle-income homeowners. The new initiative will provide essential start-up capital for the Community Restoration Fund, which will be used to pilot a mission-driven purchase of distressed mortgage notes in the communities hit hardest by the foreclosure crisis. Then, nonprofits can intervene with home-saving mortgage modifications and other tools to preserve this critical stock of affordable housing.
With an introduction from Council Member and Center board member Donovan Richards, and additional remarks and support from co-sponsoring Council Members Dan Garodnick, Daneek Miller, and Ruben Wills, we explained how this new initiative would preserve affordable homeownership opportunities in New York neighborhoods. Council Member Miller, who represents several communities in southeast Queens, explained that over the last two years, 9,000 foreclosures have wreaked havoc on these neighborhoods — costing millions of dollars, and forcing out families who have lived in these communities for generations.
We have a unique opportunity now to save these homes. The Department of Housing and Urban Development (HUD) conducts quarterly sales of delinquent mortgage loans insured by the Federal Housing Administration (FHA) through its Distressed Asset Stabilization Program (DASP). Though HUD previously sold all of these loans through a competitive bidding process at market-determined prices, often to private equity and hedge fund purchasers, recent changes to the rules have created an opportunity for municipalities to purchase these loans instead. The rule change, however, is just step one, since municipalities will need to raise significant funds and set up new programs to step in and make the choices that protect neighborhoods.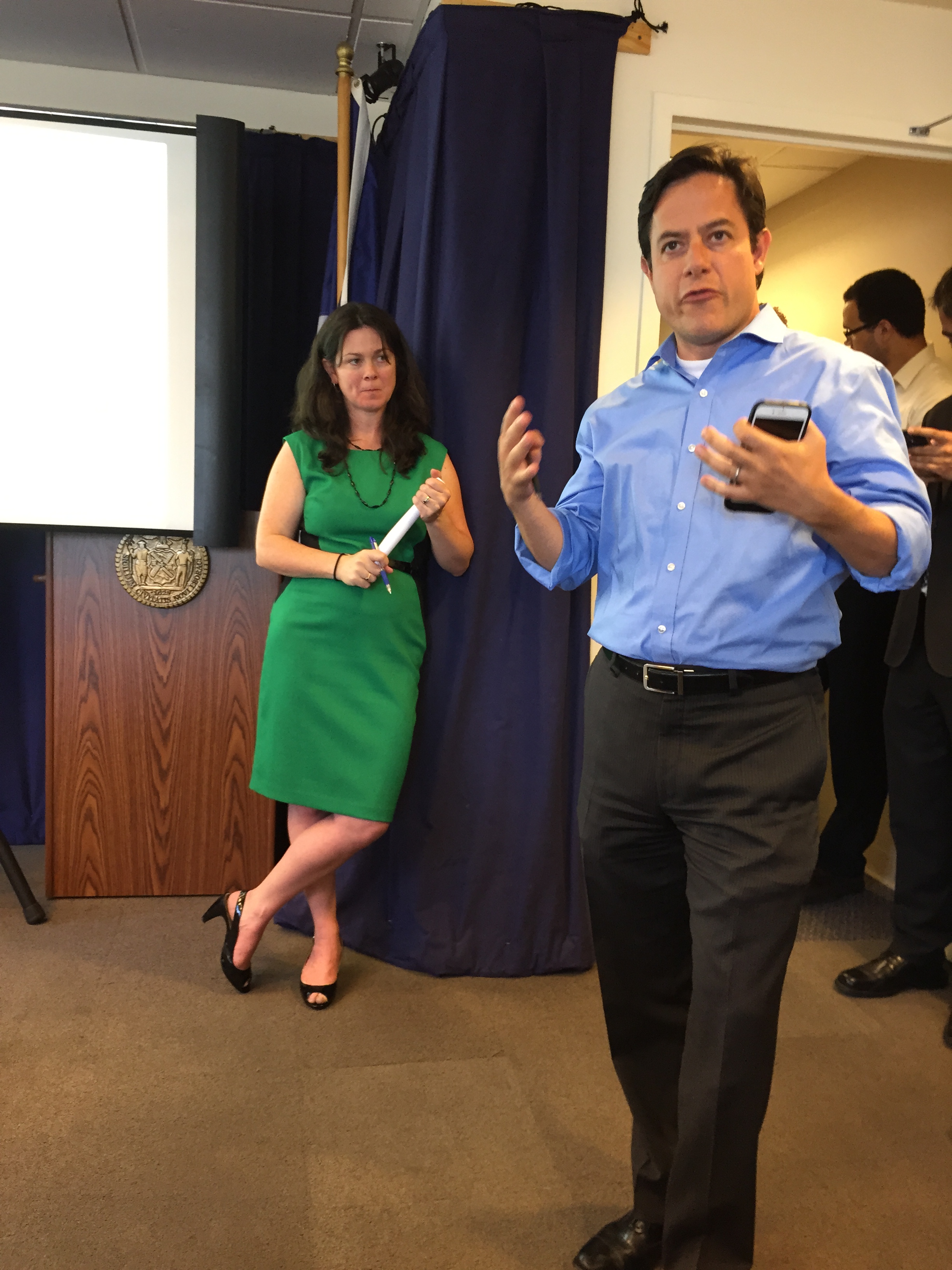 Council Member Garodnick, in the forefront, discusses how one foreclosed home on a block decreases the value of other neighborhood homes.
The first note sale with New York City notes is slated for July 15, so support from the City Council, the de Blasio administration, and all those who have a stake in preserving our neighborhoods, is crucial.
If you support keeping the homes in our middle- and lower-income neighborhoods in the hands of the community, please call or email your Council Member today and ask him or her to support the Community Restoration Fund (Foreclosure Buy-Back Initiative).