This month, summer Legal Intern Kaitlin Spesard completed her internship at the Center for New York City Neighborhoods. This is her account of her time at the Center and the work she did here to advance the Center's goals around homeownership.
It was my six years working with previously incarcerated populations that led me from a nonprofit in Houston, Texas to Loyola University Chicago School of Law. My first-year Property Law and second-year Race and Real Estate courses introduced concepts of land use and ownership, shifting my focus from criminal law to yet another area of law that has long been wielded as a racially oppressive tool. I came to appreciate the value of homeownership—a primary means of building wealth and creating stable homes and communities, yet an opportunity historically and currently denied to many—and was thrilled to discover The Center for NYC Neighborhoods.
This summer, I joined CNYCN's work of preserving and promoting homeownership status among working-and-middle income populations, while also developing my legal skills in a variety of practice areas. The combination of social purpose and personal growth gave each day and task great meaning. For example, one form required a loan applicant's wet signature, posing an administrative burden (or am I the only one who never has printer ink?). My research revealed steps CNYCN could take to process this form with an electronic signature. Through this project, I had the opportunity to engage with challenging legislation and SSA policies, knowing my work would alleviate this stressor for a struggling homeowner.
The variety of my responsibilities this summer has positioned me to be competitive upon my Spring 2023 graduation. I engaged in contract negotiations with vendors, modified loan applicant forms to be accessible and effective, researched NY State property and bankruptcy laws, reviewed subordination agreements and a tenant estoppel certificate, and analyzed the impact of new legislation upon homeowners. This range and caliber of work might have been overwhelming, given my general lack of exposure to legal issues and analysis outside the comfort of the law school, but the legal team and Center staff were welcoming and supportive.
The legal team's approachability cultivated a space where I was free to ask questions, externally process, and be myself. From weekly team meetings to daily check-ins, I always had a platform to raise legal and organizational questions, discuss the legal field and careers, and connect on a personal level. When I sought help or made a mistake, the legal team tactfully closed the knowledge gap by listening, offering a thorough explanation, and then entrusting me with another meaningful project. My input and presence were valued, and I had the opportunity to attend organizational and team meetings and brief staff on my projects.
The legal team's encouraging nature was reflective of the entire staff. Though I was fully remote, staff made a point to exchange introductions and connect with me. In my first week, I was immersed in the Center's culture of commitment to social and racial justice through a profound Juneteenth celebration, complemented by routine racial equity working group meetings, trainings, and presentations. A commitment to personal well-being was also made evident through staff lunches, events, and conversations. It was an honor to be a part of the Center for NYC Neighborhood's meaningful work, surrounded by such a committed, accomplished, and kind staff.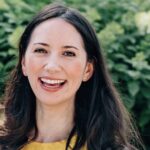 Kaitlin Spesard is in the Loyola University Chicago School of Law Class of 2023.