These are uncertain days for advocates working on the front lines to prevent homeowners from losing their homes to foreclosure.
While foreclosure filings in New York State remain high since the housing bubble burst — with nearly 34,000 new filings in 2016 and 72,000 pending cases in court — funding for the state's only Foreclosure Prevention Services Network will end Sept. 30, 2017. At the same time the network is losing its funding, federal funding for programs to tackle the mortgage crisis have come to an end.
That's why a coalition of groups including the Center for NYC Neighborhoods has come together to call on Gov. Cuomo and the State Legislature to commit $30 million in the New York budget to preserve these vital services through 2019.
On Feb. 13, 2017, nearly a dozen staff members from the Center traveled to the State Capitol in Albany with the Network to meet with individual state representatives. They spoke to politicians about the urgency of foreclosure prevention assistance, shared success stories of families whose homes have been saved, and discussed the importance of enforcing laws that penalize banks for failing to maintain vacant homes.
The Network presented a photo display in the lobby of the State Legislature's building with facts on foreclosure and stories of homeowners whose homes were saved; "heart keys" were also distributed to each representative and the governor, reflecting the number of residential foreclosure filings and delinquency notices sent to homeowners in their districts. Representatives who support the funding campaign held a press conference on the state of the foreclosure crisis across the state, and invited two homeowners to share their stories and discuss the importance of non-profit legal services and housing counseling.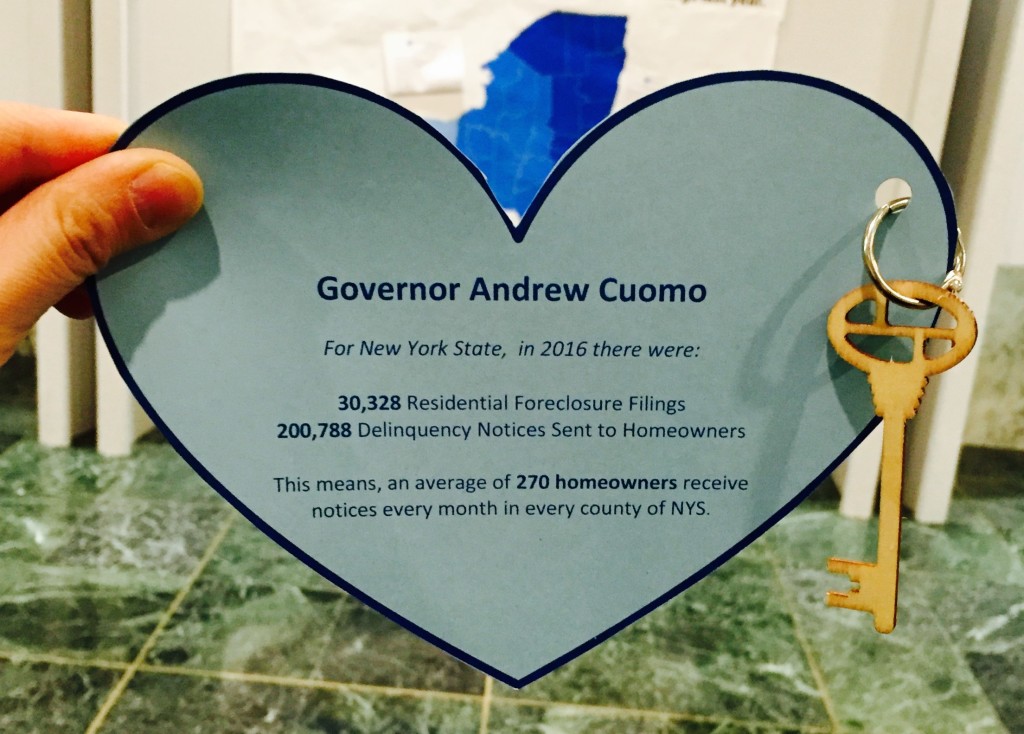 One homeowner who spoke at the news conference, a 71-year-old elderly woman, had already sold her car to be able to afford her mortgage payments. Another homeowner was only 10 days away from losing his home. Yet another was a Vietnam War veteran. It's easy to see these individuals as just a number, representing one of the 33,500 pre-foreclosed homes in NYC alone, but they are also people — people who just want to stay in their homes.
"At a time of sky-high foreclosure filings, record homelessness, and zombie properties running rampant, continued funding for legal foreclosure prevention services and consumer protections is vital," said Sen. Jeff Klein, Democrat who represents the 34th Senate District in the Bronx/Westchester, in a news release.
"Today, New York homeowners in need of help with their mortgage can access free, high-quality foreclosure prevention services to help them stay in their home," said Christie Peale, the Center's Executive Director. "Our network is there for New Yorkers, with offices in every county and New York City borough, but without State funding the network will have to turn away homeowners in need. We must not allow that to happen."
Since the 2008 housing crisis, the Foreclosure Prevention Services Network has grown into a community of 63 housing counseling and 31 legal service providers. While the network was most recently funded by bank settlements from the mortgage crisis, that source of funding is now come to an end.
State funding would provide critical support to services that help homeowners facing mortgage distress to stay in their homes, whether through modifications or by holding mortgage servicers accountable. It is crucial that these organizations have the capacity and support to continue to provide much-needed services to homeowners across the state.
Are you in need of foreclosure prevention help or do you know someone who is? Contact the Center's Homeowner Hub at 855-HOME-456 to get connected to free help from housing and legal organizations across New York.
PHOTO 1: The Network presented a photo display with statistics on foreclosure in New York, as well as homeowner stories.
PHOTO 2: NY State Sen. Jesse Hamilton speaks at the press conference, hosted by the Independent Democratic Conference & Assemblywoman Helene Weinstein.
PHOTO 3: Gov. Cuomo's "heart key," detailing the residential foreclosure filings and delinquency notices sent to homeowners across the state in 2016.