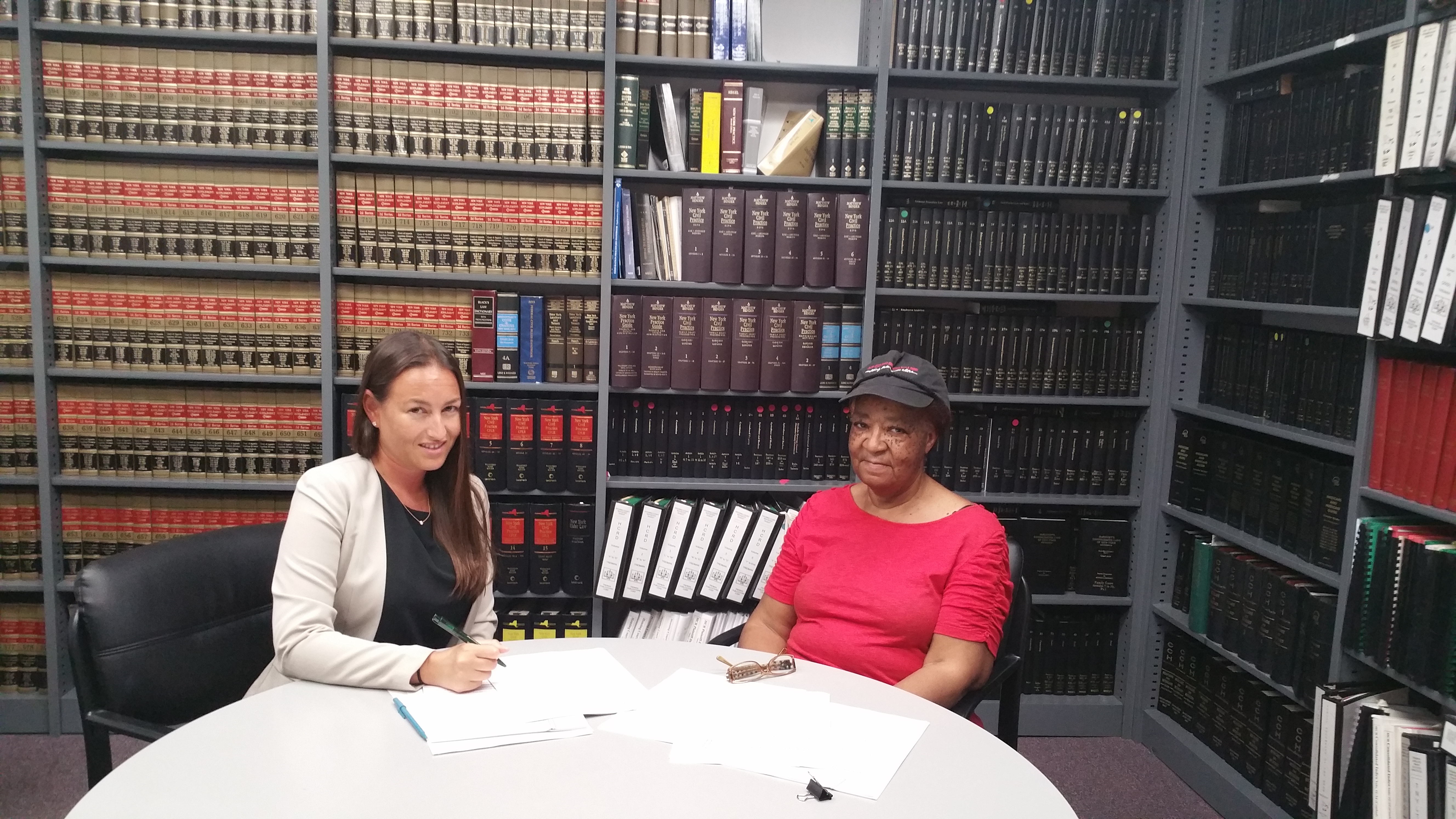 Jennifer Levy with a client at JASA – Legal Services for the Elderly in Queens
Courina Yulisa, Senior Program Manager from the Center, sits down for a Q&A session with Jennifer Levy, staff attorney at JASA – Legal Services for the Elderly in Queens (JASA-LSEQ), about their focus on serving senior homeowners.  
Q:  Can you tell us about the services that JASA-LSEQ provides to senior homeowners?
A:  We provide free legal services to senior citizens over the age of 60 years old living in Queens, Brooklyn, and Manhattan who are facing eviction, foreclosure, consumer debt, and other legal issues which place these senior citizens at risk for losing their homes. In addition, the LEAP project provides free legal assistance to senior citizens who face both physical and financial abuse, which often includes deed theft and abusive use of Power of Attorneys. Our office also provides assistance with securing benefits and financial assistance relating to property charges and utility bills.
Q:  Certainly an integral resource for seniors in this city!  What are some of the unique challenges you face when dealing with the senior homeowner population and their issues, and how have you been able to address them?
A:  Some of the more unique challenges to the population we serve is that most have a limited source of income, mostly due to fixed retirement income or death of a spouse. Disabilities or illnesses often add to this hardship. Another major issue our clients face is they are extremely vulnerable to scammers who prey on seniors and solicit them via the telephone, mail, and even by knocking on their doors. Many have fallen victim to foreclosure rescue, loan modification, and/or deed theft scams, where the homeowners are tricked into paying money for services that are never performed or told to sign papers that in reality were transferring the deed to their homes.
Our work at JASA-LSEQ addresses as many of these challenges as possible. Recently as a preventive and intervention measure, JASA-LSEQ initiated a financial support group to help empower seniors facing eviction and foreclosure with financial management and coping skills. Because all legal services under Legal Services for the Elderly are part of JASA's comprehensive social services' network, we have built-in capacity to maximize the services clients can receive by referring them to other JASA programs.
For victims of financial abuse and scams, JASA-LSEQ works with law enforcement and regulatory agencies to help seniors receive partial or complete restitution and to file complaints. Moreover, victims of financial exploitation, identity theft, and abuse often need to draft and execute new estate planning documents as part of a safety plan. Through a JASA-LSEQ pro bono wills project, clients obtain powers of attorney, healthcare proxies, wills, and living wills. We also provide informational workshops at senior and community centers making seniors aware of common scams and reliable organizations that exist to help.
Q:  Since you deal exclusively with seniors, what were some of the emerging trends within the senior homeowner population that you observe?
A:  That would definitely be the various scammers targeting the elderly, as well as foreclosures on reverse mortgages and tax liens due to the senior citizen's inability to afford to pay their property taxes and water bills. This relates back to their challenge of having fixed incomes in a city that's becoming increasingly expensive.
Q:  In your opinion, what would be the most pressing need that the senior population face in this city?
A:  The most pressing need for senior citizens is affordable housing. The few senior housing buildings that are available have waiting lists with a minimum of two years and sometimes up to 10 years. Likewise, the need for awareness in the community is vital, so that senior citizens will know that there are free legal services and resources for the types of issues that they are facing.
Q:  What was your reason for joining JASA LSEQ and what keeps you going in performing this valuable service?
A:  I wanted to dedicate my legal career to helping others and making positive change in NYC.  I love my job because I can truly go home from work everyday knowing I have helped families save their homes and the many memories within them; I was able to give hope to so many seniors who feel alone and not sure where to turn to for help. My clients are the best — they are all so smart, have such interesting backgrounds, and are so appreciative of our work!
Referrals from network organizations can be made by calling JASA-LSEQ's main number at (718) 286-1500, or sending an email to Help@jasa.org.