New Yorkers who are rebuilding their homes following Hurricane Sandy and looking for advice on how to rebuild and make their home more resilient can find integrated assistance from a team of architects, housing counselors, and flood insurance specialists all under one roof at the Sandy Neighborhood Design HelpDesk.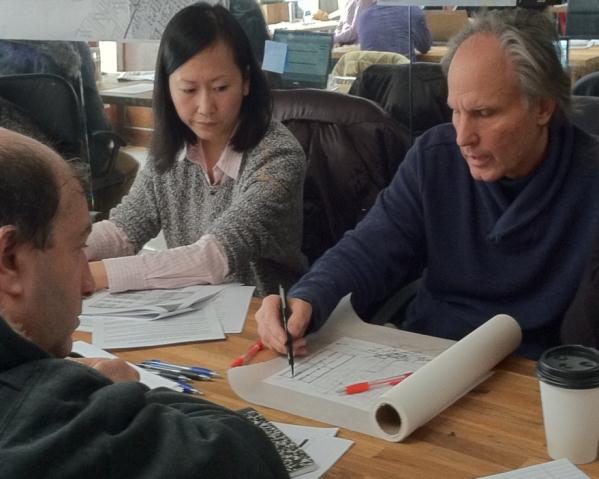 Homeowners who attend a HelpDesk event can receive detailed and tailored information on flood-resistant design, building codes, zoning, insurance requirements, flood insurance changes, and mortgage and financial advice. Homeowners can also speak to Build it Back specialists at the HelpDesk.
The HelpDesk team has been an early adopter of the Center's new website FloodHelpNY.org, which  helps homeowners get information on flood insurance and their flood risk. Using the website's mapping tool, homeowners and HelpDesk team members are able to start personalized conversations about changing flood zones, rising insurance costs, and potential measures that can be taken to mitigate flood risk.
Upcoming Sandy Neighborhood Design HelpDesks will be hosted in Coney Island, Staten Island, and Canarsie on the following dates:
Staten Island
Location:
Staten Island Alliance
274 Colony Avenue
Staten Island, NY 10306
Dates + Times:
Thursday, October 23: 3pm-8pm
Friday, October 24: 3pm-8pm
Saturday, October 25: 10am-4pm
Canarsie
Location:
Beraca Baptist Church
9602 Flatlands Ave
Brooklyn, NY 11236
Dates + Times:
Tuesday, October 28: 6pm-9pm
Thursday, November 13: 6pm-9pm
Tuesday, November 18: 6pm-9pm
The Sandy Neighborhood Design HelpDesk is a partnership between LISC, Enterprise Community Partners, Inc., the Center for New York City Neighborhoods, the Pratt Center for Community Development, the New York City Department of Housing Preservation and Development, the Housing Recovery Office, as well as local community-based organizations.
For more information about the Sandy Neighborhood Design HelpDesk, please visit www.sandy-helpdesk.com or call 718-637-8660.