Nearly two years after the coronavirus pandemic began, the economic fallout from the virus has pushed thousands of New York City homeowners to the brink of foreclosure.
Yet the financial distress among homeowners is unevenly distributed throughout the five boroughs, according to a new analysis of mortgage delinquency data by the Center for NYC Neighborhoods. The Bronx, for instance, leads the city with the highest number of ZIP codes with above-average delinquency rates among mortgage borrowers. 
Seventeen out of 25 ZIP codes in the Bronx had delinquencies above 4.17%, according to the analysis, and a few had much higher rates, such as Mott Haven and Hunts Point (13.5%). Meanwhile, more than 10% of homeowner households in the borough were more than 20 days delinquent on their mortgages. 
Rates of mortgage distress also were distributed along historical patterns, with some of the hardest-hit neighborhoods having been at the center of the 2008 foreclosure crisis and predatory lending. Some areas with high mortgage distress are coastal or flood-prone areas, such as Canarsie and the Bergen Beach neighborhoods of Brooklyn, and Edgemere/Far Rockaway in Queens. And many of these neighborhoods are disproportionately affected by the City's annual tax lien sale, which advocates have fiercely fought to cancel. 
In Brooklyn, 20 out of 37 zip codes had delinquent homeowners above average, with eight zip codes above 10%. In Queens, nearly half of zip codes had above-average distress, with leading rates in Edgemere, Queens Village, and Jamaica. 
There are more than 1 million homeowners in New York City, mostly in Queens, Brooklyn, and Staten Island. There are also substantial pockets of co-op and condo owners in Manhattan and the Bronx. Just over half of these homeowner households are low-to-moderate income, meaning that they earn less than $113,000 for a family of three.¹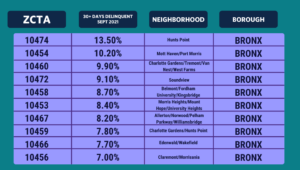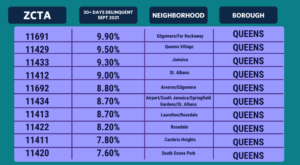 ¹Aftermath: Affordable Homeownership 10 Years after the 2008 Foreclosure Crisis, Center for NYC Neighborhoods, 2018
Like the 2008 foreclosure crisis, the post-pandemic effect on homeowners is poised to be felt most strongly among communities of color, potentially fueling the already widening racial wealth gap. 
Earlier this month, Governor Kathy Hochul released the executive budget for NYS, which includes more than $400 million dollars in funding for homeownership initiatives across the state. More recently, the Senate and Assembly one-house budgets were released, with similarly generous allocations for foreclosure prevention services, acquisition funding for permanently affordable homeownership units, and home repair funding. 
At the city level, our new mayor and City Council have a unique opportunity to ensure that New York's homeowners emerge from the pandemic able to keep their homes, and to prevent further loss of equity in communities of color. 
Looking ahead, our new elected officials can support homeowners with the following policy recommendations:
Fund and support foreclosure prevention services in the city

Permanently cancel the City's tax lien sale

Fund homeowner-landlord services to repair relationships between tenants and landlords

Legalize safe basement apartments throughout the city, and restore funding to the East New York basements pilot

Help curb aggressive speculation and scams in low-density neighborhoods