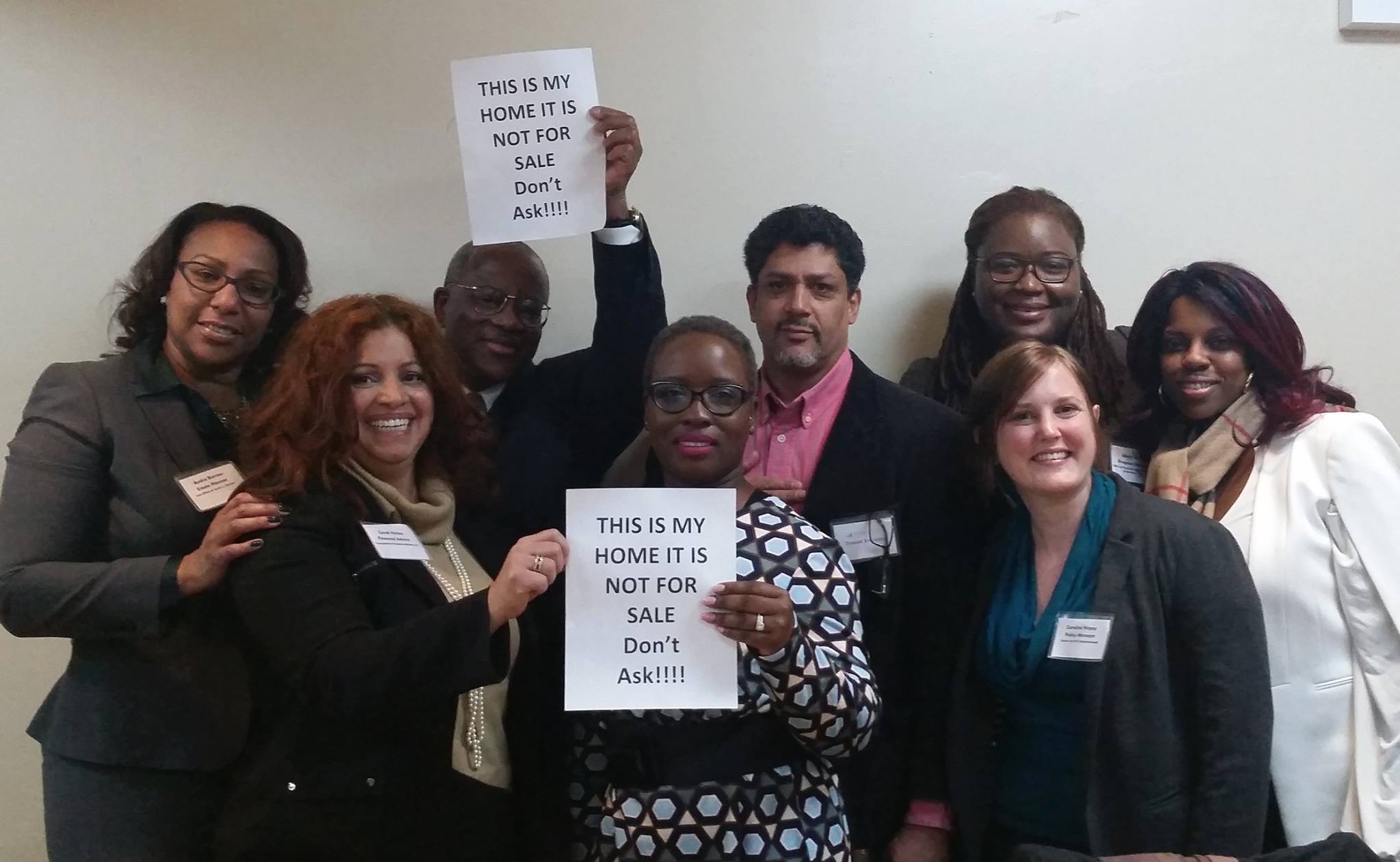 Posing with fellow presenters (L-R), Audra Barrow of the Law Office of Audra J. Barrow, Candi Hinton of Transamerica Financial Advisors, Inc,  Eustace Greaves of Greaves Financial Services & The Bridge Insurance Agency, Masanna Johnson of Bridge Street Development Corporation, Don Eversley of Bridge Street Development Corporation, Idesta Severin of the Office of Financial Education at Restoration Plaza, and Charlene Gayle of The Macon Realty.  
For communities like Bedford-Stuyvesant, Brooklyn, rapidly increasing property values bring a host of new challenges. The displacement of low-income tenants in gentrifying neighborhoods is a well-known concern. But how do these trends impact homeowners? For some homeowners, rising home values are an unequivocal blessing. Other homeowners, however, particularly low-income families and seniors, are finding that with rising values come other pressures that can lead to a neighborhood they can no longer afford.
Such issues were clearly on the mind of the more than 140 people who attended Keeping it in the Family, an excellent recent event organized by the Center's Network Partner Bridge Street Development Corporation. The goal of the event was to provide information and resources for homeowners as they work to maintain their homes in order to have something to pass on to their children. As a speaker, I presented on the upcoming City tax and water lien sale, which can put some homeowners at serious risk of foreclosure. I was joined by a panel of experts on topics ranging from estate planning, insurance, foreclosure, and financial empowerment, as well as elected officials including Council Member Cornegy, Assembly Members Robinson and Mosely, and other local leaders.
Preserving Affordable Homeownership in Bed-Stuy
Historically an African-American community with a strong tradition of homeownership, Bed-Stuy has seen dramatic changes in property values over the last few decades. In previous decades, relatively low housing prices meant that this community was a place where working- and middle-class families could afford to own homes. Today, rising property values have largely outpaced the incomes of many long-time homeowners, leading to a new set of challenges. As moderator Don Eversley of Bridge Street explains it, "being asset rich and cash poor is a huge problem in this neighborhood." Keeping it in the Family panelists explored this issue in depth, outlining a number of potential pitfalls homeowners must be aware of and prepared to handle.
The Importance of Power of Attorney and Estate Planning:
As homeowners age, the need for estate planning and designating a power of attorney becomes vital. Unfortunately, many homeowners fail to address these issues, leading to crisis within the family when a beloved elder loses decision-making capacity or passes away.
For example, estate planner and panelist Audra Barrow shared a personal story of her aunt, who had a stroke and became incapacitated without having previously designated a power of attorney. Ms. Barrow then had to go through the lengthy process of applying for guardianship through the court system, which took months. In such situations, mortgages often go unpaid and accrue arrears, as mortgage servicers will not communicate with family members who do not have power of attorney, nor are family members able to access the relative's bank account or other assets to make payments.
This issue also arises when multiple owners are listed on a deed, and one of the owners has lost capacity. For example, to modify a mortgage, servicers will require sign-off from all owners of the property. However, if one of the persons named on the deed is incapacitated, this can create complications and add delays to the modification process.
Other potential pitfalls that can be avoided through estate planning include Medicaid liens on a property due to nursing home expenses, and large estate taxes for heirs.
Tax and Water Lien Delinquency:
With increased property values come increased property taxes, leading to late payments and arrears for homeowners who cannot keep up. Although New York City property tax increases are capped at six percent a year, the cumulative impact of increases can overwhelm their ability to pay. Another challenge for homeowners, particularly those in older homes, is steep water costs. A number of factors can contribute to serious water debt, including rate increases, unexpected financial hardship, unmet maintenance needs, or disputed meter rates.
If property taxes or water bills go unpaid, the City may place a lien on the property and sell it to a third party through its annual lien sale. Once the lien is sold, homeowners will need to pay steep interest rates and high fees to the new lien holder. Paying the debt can become an overwhelming financial burden and failure to do so may eventually lead to foreclosure.
Scammers and Aggressive Brokers:
As high property values make homeowners in communities like Bed-Stuy a tempting target, scammers use a variety of methods to steal their money and even their homes. At the Center, we documented how foreclosure rescue scammers take advantage of homeowners seeking to avoid foreclosure. Also prevalent are deed theft scams, where a homeowner is tricked into signing the title to their home over to another party as a result of fraud or coercion, with seniors and homeowners with diminished capacity particularly vulnerable.
Additionally, panelists warned of rogue reverse mortgage brokers that seek to mislead or intimidate seniors into taking out a reverse mortgage on their home. While taking out a reverse mortgage may be a good option for senior homeowners in certain circumstances, it is essential that anyone considering a reverse mortgage understands their benefits and drawbacks and is able to make a decision free of pressure.
Ultimately, Keeping it in the Family highlighted the serious challenges homeowners face in communities like Bed-Stuy. At the same time, with its high turnout, the united front of many community leaders and organizations present, and the variety of high-quality services available, the event itself spoke to the strength of a community working together to meet these challenges. At the Center, we are honored to be a part of this effort. A huge congratulations to Bridge Street Development Corporation on a great event!