Our annual, one-day Affordable Homeownership Summit is an opportunity for hundreds of leaders, policymakers, elected officials, lenders, and advocates to discuss the challenges facing low- and moderate-income homeowners, as well as innovative solutions and best practices.
This year's Summit theme will focus on equity in our communities, and the crucial questions advocates, supporters, and partners need to ask when considering a framework for healthy, sustainable, affordable homeownership.
Date: Friday, September 27, 2019
Time: 9 AM- 6PM
Location: Convene, 117 W 46th St. New York, NY
Keynote speaker: Errol Louis, leading news analyst and political commentator
Errol Louis is a political anchor, journalist, and researcher, writing on a range of political and social affairs. He has appeared on CNN, and hosts "Inside City Hall" on NY1 News.
Scroll for more information on the agenda.
Thank you to our Summit sponsors: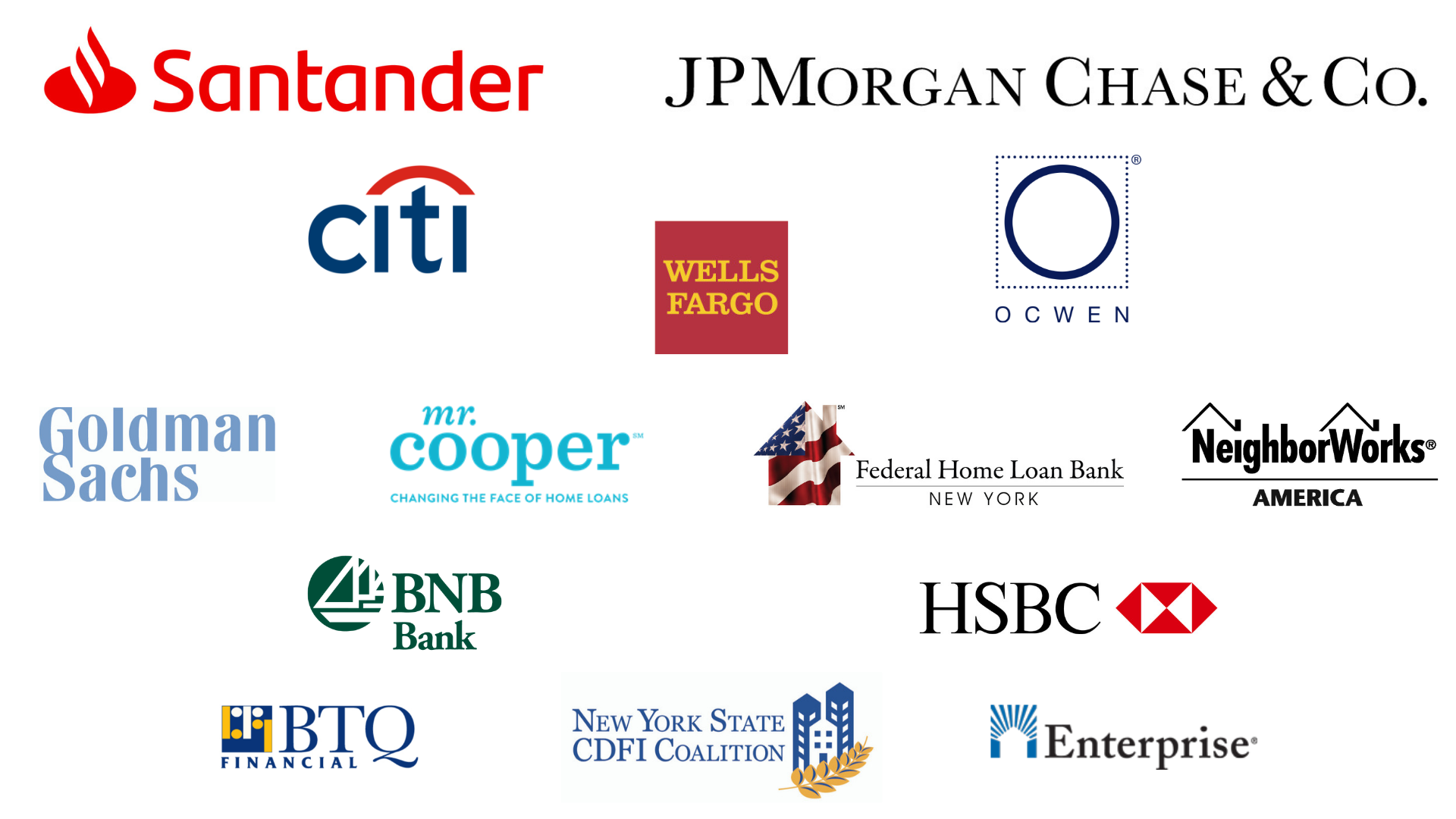 Summit Agenda
MORNING PLENARY PANEL
Equitable Homeownership: A Blueprint for Thriving Neighborhoods
Gordon Bell, Executive Vice President of Strategy and Business Development, Bedford Stuyvesant Restoration Corporation
Lorraine Collins, Director of Public Policy and External Affairs at Enterprise Community Partners, Inc. New York Office
Jessie C. Lee, Managing Director, Renaissance Economic Development Corporation and AAFE Community Fund
Dina Levy, Senior Vice President of Single Family and Community Development, New York State Homes and Community Renewal
Jonathan Mintz, Founding President and Chief Executive Officer, Cities for Financial Empowerment Fund
MODERATOR: Oscar Perry, Abello Senior Economics Correspondent, Next City
BREAKOUT SESSION I
Federal Policy: Community Development and Consumer Protection at a Crossroads?
The Trump Administration has released a number of budget and regulatory proposals that could strongly impact affordable housing, community development, and consumer financial protections. This panel will assess proposals to "modernize" the Community Reinvestment Act and the Home Mortgage Disclosure Act, as well as moves to undermine consumer protections and fair housing regulations. Panelists will also discuss the current direction of the Consumer Financial Protection Bureau and new housing finance proposals.
Linda Jun, Senior Policy Counsel, Americans for Financial Reform Education Fund
Emmanuel Martinez, Data Reporter, Reveal News
Elizabeth Strojan, Vice President of Government Affairs, NYC Housing Development Corporation and NYC Housing Preservation and Development
Joe Weisbord, Board Member, Center for NYC Neighborhoods
MODERATOR: Rachel Fee, Executive Director, New York Housing Conference
Promises and Perils of Fintech Lending
Digital tools are disrupting the homeowner and homebuyer experience. Mortgage origination, servicing, counseling and even home buying itself are on the precipice of dramatic change. In this session, panelists will explore the new opportunities financial technology is creating in the homeownership space. The panel will also discuss challenges presented by these innovations in lending and how fintech will affect the ability of low- and moderate-income as well as black and Latinx families to access homeownership.
Chi Chi Wu, Staff Attorney, National Consumer Law Center
Jaime Weisberg, Senior Campaign Analyst, Association for Neighborhood & Housing Development
Sean Baddeley, Director of Partnerships, Better.com
MODERATOR: Hakim Thompson, Executive Director, Mortgage Transformation, JPMorgan Chase
What Does NYC's Green New Deal Mean for 1-4 Family Homes?
New York City's Green New Deal legislation is the most aggressive in the country, calling for eliminating carbon emissions by 2040. There are new energy efficiency benchmarking rules for multifamily and commercial buildings, but also important considerations for homeowners. Panelists from government and non-profit sectors will discuss the green roof mandate, the introduction of PACE loans to the New York City market, and how the city's legislation differs from the New York State Climate and Community Protection Act.
Michelle de la Uz, Executive Director, Fifth Avenue Committee
Emily Dean, Director of Market Development, NYSERDA
Aaron Odower, Assistant Deputy Director – Programs, NYC Mayor's Office of Sustainability
MODERATOR: Jarrett Murphy Executive Director, City Limits
Black and Latinx Homeownership: Steps to Closing the Homeownership Gap
Decades of discrimination, redlining, and the "reverse redlining" of the subprime era have taken their toll on the homeownership rates – and thus wealth – of black and Latinx households. The foreclosure crisis, while destructive throughout America, was particularly felt by black and Latinx households, many of whom lost not only their homes, but also equity that had taken years to build. What are leading strategies to prevent displacement of black and Latinx homeowners, and what more needs to be done to ensure black and Latinx families can access homeownership? This panel will discuss the existing barriers to homeownership for black and Latinx households, especially among millennial homebuyers, as well as solutions and services that could help close the homeownership gap.
Julia Salazar, New York State Senator
Adrienne Adams, New York City Council Member
Donovan J. Richards, New York City Council Member
Jung Choi, Research Associate at the Housing Finance Policy Center, Urban Institute
MODERATOR Emmanuel Martinez, Data Reporter, Reveal News
BREAKOUT SESSION II
State Policy: After A Big Year for Housing, What's Next?
The last state legislative session resulted in groundbreaking reforms for New York renters and a strong commitment to homeowners. Housing and consumer advocates hope to build on these gains and pass new protections for consumers, homeowners, and communities undergoing high levels of investor purchases. This panel will assess the current state of play and preview top priorities for advocates going into the new year. Carolyn Coffey Director of Litigation, Mobilization for Justice, Inc.
Chuck Bell, Programs Director, Advocacy, Consumers Union
Yoselin Genao-Estrella, Executive Director, Neighborhood Housing Services of Queens, CDC, Inc.
Jacob Inwald, Director of Foreclosure Prevention, Legal Services NYC
MODERATOR: Caroline Nagy, Deputy Director for Policy and Research, Center for NYC Neighborhoods
Homes and Health
More and more families and practitioners are calling attention to the links between housing conditions and health. The impact of mold, lead, and unsafe conditions are severe in public housing, but is also a major issue throughout New York City's aging 1-4 family housing stock. Poor conditions in these homes have been made more acute by uneven access to repair financing, a significant concern in non-white communities where de facto and de jure discrimination have taken their toll. This session will explore how housing conditions influence health and document how innovative programs in New York City and Philadelphia break down silos and address both health and housing head on.
Lisa Talma, Assistant Commissioner for the Division of Property Disposition and Finance, NYC Housing Preservation and Development
Sandra Lobo Executive Director, Northwest Bronx Community and Clergy Coalition
Jill Roberts Director, Healthy Rowhouse Project
Kathleen Bronson, Director of Community Housing Initiatives, Home Headquarters Inc.
MODERATOR: Michelle Neugebauer Executive Director, Cypress Hills Local Development Corporation
Innovative Programs to Support Seniors
Seniors are making up a larger share of New York City homeowners, and are also amongst the most vulnerable. They are frequently the target of scammers, require additional services to help age in place, as well as additional support to protect them from financial shocks. This panel will feature innovative programs that have emerged to support senior homeowners, as well as highlighting gaps where more support is needed.
Dianne Woodburn, Legal Services Supervisor, JASA
Emily Morris Litonjua, Former Executive Director, ESAC Boston
Samira Rajan, CEO, Brooklyn Coop Federal Credit Union and Executive Director, Grow Brooklyn
Michael Sachs, Executive Assistant District Attorney and Chief of the Investigation Division, New York County District Attorney's Office
MODERATOR: Elizabeth Zeldin Director, Neighborhood Impact Program, Enterpise Community Partners