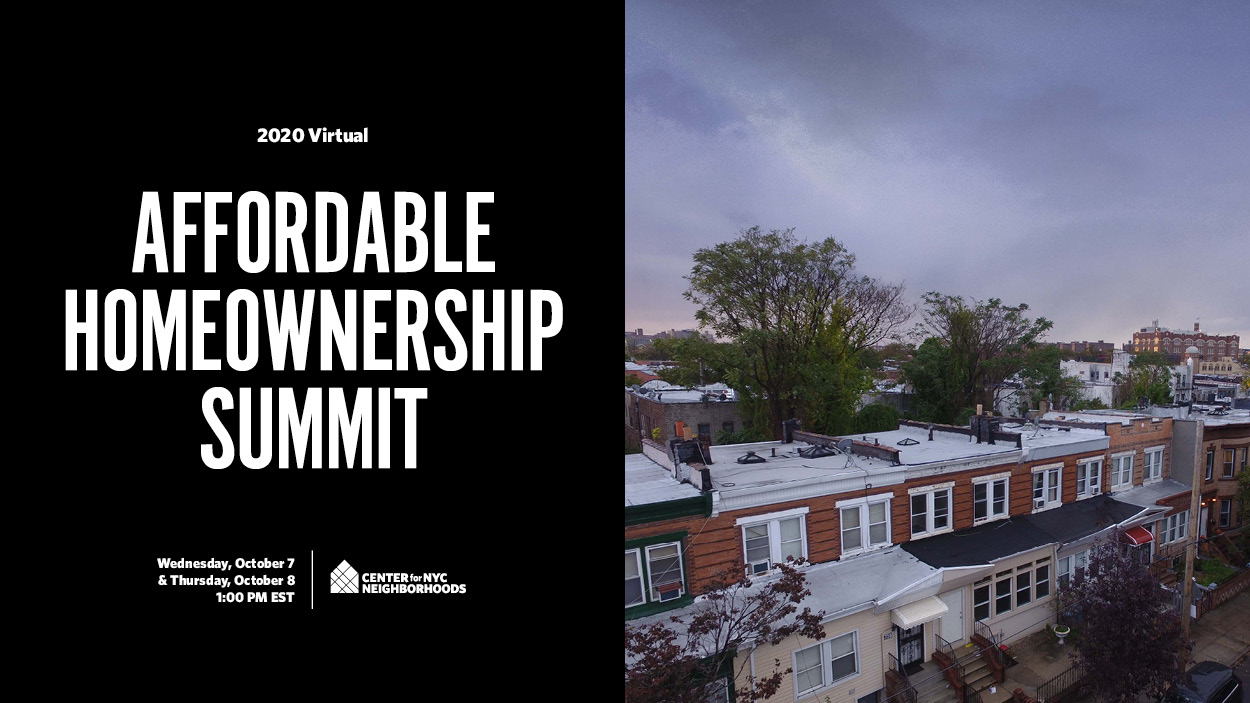 We hope you'll join us at this year's virtual Affordable Homeownership Summit, Wednesday, October 7 and Thursday, October 8. Tickets are now available!
For our seventh annual Affordable Homeownership Summit, hundreds of leaders, policymakers, elected officials, lenders, and advocates will convene online to discuss the challenges facing low- and moderate-income homeowners, as well as innovative solutions and best practices. This year, we will examine Models for an Equitable Recovery, focusing conversations on the impact of the coronavirus pandemic, supporting Black homeownership, and climate change.
Date: Wednesday, October 7 & Thursday, October 8
Time: 1pm – 5pm (EST)
Introducing Keynote Speaker Andre Perry
Andre Perry is a Fellow in the Metropolitan Policy Program at Brookings, a scholar-in-residence at American University and a columnist for the Hechinger Report. His work focuses on race and structural inequality, education, and economic inclusion. Andre has most recently analyzed Black-majority cities and institutions in America, focusing on valuable assets worthy of increased investment. He is the author of the recently-released book Know Your Price: Valuing Black Lives and Property in America's Black Cities (Brookings Institution Press).
A nationally-known and respected commentator on race, structural inequality and education, Andre is a regular contributor to MSNBC and has been featured by The New York Times, Washington Post, CNN, National Public Radio, NBC and more.
We are excited for Andre to come and share his expertise on Black homeownership and the racial wealth gap with our community. Register now and join us in October for a riveting conversation with Andre, along with panels and breakout sessions with other brilliant leaders. This year's Summit is focused on Models for Equitable Recovery, and how we leverage lessons learned from past crises for the current challenges homeowners face on multiple fronts. We hope to see you there!
2020 AFFORDABLE HOMEOWNERSHIP SUMMIT: SUMMIT AGENDA
WEDS OCTOBER 7 + THURS OCTOBER 8, 1-5PM EST
WEDNESDAY OCTOBER 7
1-1:50PM EST: 
Welcome Speech: Center for New York City Neighborhoods CEO, Christie Peale

Keynote Speech: Andre Perry, Fellow in the Metropolitan Policy Program at Brookings and author of

Know Your Price: Valuing Black Lives and Property in America's Black Cities 
2-2:50PM EST: 
What Role Can Mission Driven-Lenders, Including CDFIs, Play With Lending During a Crisis?
In a time of crisis, mission-driven lending institutions like CDFIs and community development credit unions have proven that creativity and innovation in lending is possible and even necessary. This panel will explore how these organizations position their lending to respond to challenging times. From large-scale lending programs like Sustainable Neighborhoods' New York State Mortgage Assistance Program, which disbursed $104 million in foreclosure prevention funding to homeowners between 2010 and 2019, to the preservation of limited equity co-ops through tactical interventions in Brooklyn, our speakers will share how mission-driven lenders have adapted and navigated times of crisis. 
PANELISTS:
Cathie Mahon, CEO/President, Inclusiv
Zar Tun, Deputy Director, Sustainable Neighborhoods
Chris Illum, Executive Director, Habitat for Humanity New York City Community Fund
MODERATOR: Joanie Straussman Brandon, Northeast Region Vice-President, NeighborWorks America
3-4:20PM EST: 
Black Homeownership in NYC: Understanding the Landscape and Interventions for Change
New York City has lost thousands of Black homeowners over the last decade, and could lose even more as the economic devastation caused by the coronavirus pandemic accelerates. How can we increase Black homeownership rates to help address the racial wealth gap? This panel will explore the state of Black homeownership in New York City and delve into the findings of the Center's Black Homeownership Project (BHP), created to explore new pathways to preserve and grow homeownership among Black communities. This panel will include breakout room discussions to discuss five interventions identified by the BHP team.
PANELISTS:
Colvin Grannum, President and Chief Executive Officer, Bedford Stuyvesant Restoration Corporation
Louise Carroll, Commissioner of the New York City Department of Housing Preservation and Development (HPD)
Jung Choi, Research Associate, Urban Institute
MODERATOR: David Clunie, Executive Director, Black Economic Alliance
THURSDAY OCTOBER 8
1-1:50PM EST: 
Environmental Injustice and Housing: Exploring the Unequal Impacts of Climate Change
As our climate continues to change at an increasingly rapid rate, we are all bearing witness to how its effects are unequally distributed. Historically racist housing policies have left many in literal danger zones for flooding and overheating as weather patterns change. This panel will examine how climate change intersects with homeownership to create social inequities and challenges to mitigation.
PANELISTS:
Kate Boicourt, Director of Resilience, Waterfront Alliance
Andrea McArdle, Professor of Law, City University of New York School of Law
Daphne Lundi, Acting Deputy Director for Social Resiliency, NYC Mayor's Office of Resiliency
MODERATOR: Joseph Sant, Deputy General Counsel, Center for NYC Neighborhoods
2-3:20PM EST:
Helping Homeowners During COVID-19
The coronavirus pandemic continues to have a lasting impact on homeowners, deepening the challenges faced by low- and moderate-income families in New York City. How have on-the-ground service providers adapted to these challenging times? This panel will highlight best and new practices from legal service providers and housing counselors that have maintained their connection to the communities they serve during these unprecedented times. This panel will include breakout room discussions for practitioners to brainstorm and share their experiences on topics such as tenant/landlord relationships and policy and advocacy during COVID-19.
PANELISTS: Yoselin Genao-Estrella, Executive Director, Neighborhood Housing Services of Queens
Tamara Del Carmen, Director of Consumer and Economic Advocacy Program, Brooklyn Legal Services Corporation A
Dianne O. Woodburn, Legal Services Supervisor, JASA – Legal Services for Elder Justice
MODERATOR: Kevin Wolfe, Senior Program Manager, Homeowner Services, Center for NYC Neighborhoods
3:30-4:20PM EST:
The Landscape for New Homebuyers During the Pandemic 
Nobody could have predicted the current state of the New York City real estate market. With the massive changes brought about by the coronavirus pandemic, what is the outlook for low- to moderate-income (LMI) individuals and families seeking to be first-time homeowners? This panel will feature a market-level analysis of New York City's real estate market for LMI families; perspectives from on-the-ground housing counselling; analysis of the impacts of cash buyers; and innovative new models of expanding homeownership.
PANELISTS:
Yangchen Chadotsang, Homeownership Program Manager, Chhaya CDC
Nancy Wu, Economist, Zillow
Dina Levy, Senior Vice President of Single Family and Community Development, New YorkHomes and Community Renewal
Carlina Rivera, Council Member, NY City Council
MODERATOR: Leo Goldberg, Senior Policy and Research Manager, Center for NYC Neighborhoods
Thank you to our wonderful sponsors!